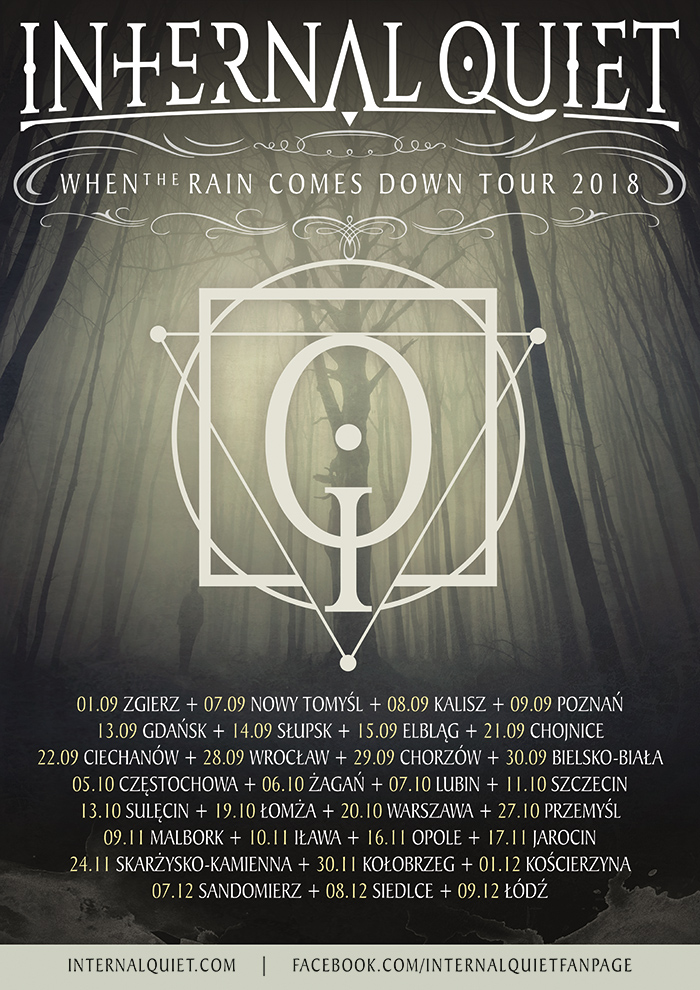 INTERNAL QUIET – one of the most noticeable and appreciated up and coming acts on the Polish hard rock & heavy metal music scene – will embark in the autumn as a headline act on a thirty dates concert tour under 'When The Rain Comes Down Tour 2018' moniker.
The tour kicks off with The Quireboys on a prestigious 'City Of Power' festival in town of Zgierz PL, after which INTERNAL QUIET will present 'When The Rain Comes Down' album in almost all provinces and dozens of cities throughout the country of Poland, where apart from large cities like Wrocław, Szczecin, Poznań, Łódź or Warsaw it will also reach locations that have never been visited by the band so far (Kościerzyna, Iława, Nowy Tomyśl, Sulęcin and many others).
Touring guests and support acts for 'When The Rain Comes Down Tour 2018' will be announced in due course.
INTERNAL QUIET promises to deliver a powerful and professional show on their upcoming live performances. Says band in a statement:.
Upcoming shows will be a chance to see the band for the first time in the full stage-sound formula, which we have been eagerly striving for. We have always wondered what it feels like to go on stage as a headline act and be able to present ourselves in full scale live performance. We are going to perform live most of tracks from 'When The Rain Comes Down' release plus some new compositions and maybe throwing some surprises here and there that listeners have been asking for. The plans also include some special guests and everything will coincide with the releasing of the vinyl version of our debut cd release, so join us! '
'When The Rain Comes Down Tour 2018' will be the culmination of the artistic and promotional activities of the band, supported by rave reviews of the album and enthusiastic response they have from the audience.
The band's debut 'When The Rain Comes Down' (released in the autumn of 2016) have been well received by media and already promoted with 40 concert dates as special guest of Polish hard'n'heavy iconic group TURBO. Since then, INTERNAL QUIET music have been broadcasted on several of the country's leading radio stations such as Radio Opole, Radio Sygnały, Radio Tczew FM, Radio Malbork, Radio Rzeszów, Radio PIK Bydgoszcz, Radio Olsztyn, Radio Białystok, Radio Łódź, among others.
INTERNAL QUIET delivers intriguing blend of hard rock and traditional heavy metal with small taste of AOR and progressive rock, combined with heavy guitars, rhythm section and remarkable vocals. The group draws their inspiration and energy from the european and american hard'n'heavy, NWOBHM and progressive power music scene in style of Queensrÿche, Crimson Glory, Stratovarius, Saxon, Iron Maiden, Judas Priest, Pretty Maids, with the emphasis on the maturity and originality of their own ideas for music and arrangements.
Bandleader and guitarist Sławomir Papis is also a well-known and respected persona in local music scene. Being a guitar endorser of the famous Taurus brand and regular participant in many guitar workshops all over the country, he is also a member of 'New York Festival 2017/2018' jury team and excellent record producer in his own Case Studio, where he continues to record and mixing bands to this day. Sławek is also a frequent contributor to Pronet Music, which consists of Pronet Records publishing, Prowinylcd online store, Pro-Radio internet and Artistic Agency dealing in publishing, worldwide distribution and music promotion.
INTERNAL QUIET 2018:
Sławomir Papis – lead guitars
Dominik Kalisz – rhythm guitars
Mateusz Stołowski – bass guitar & backing vocals
Paweł Lachowicz – drums
Maciej 'Rocker' Wróblewski – vocals
Tickets for INTERNAL QUIET 'When The Rain Comes Down Tour 2018' will go on sale beginning July 1st, 2018.
Please visit http://internalquiet.com and facebook.com/internalquietfanpage for more details and information to be available shortly.
The itinerary for INTERNAL QUIET ''When The Rain Comes Down Tour 2018" is as follows:
01.09.2018 ZGIERZ / City Of Power Festival, MOSiR
07.09.2018 NOWY TOMYŚL / Pizzburg
08.09.2018 KALISZ / Urwany Film
09.09.2018 POZNAŃ / Blue Note [+special guests TBA]
13.09.2018 GDAŃSK / Wydział Remontowy
14.09.2018 SŁUPSK / Motor Rock Pub
15.09.2018 ELBLĄG / Mjazzga
21.09.2018 CHOJNICE / Pub Wlad
22.09.2018 CIECHANÓW / Fabryka Zgrzyt
28.09.2018 WROCŁAW / Liverpool
29.09.2018 CHORZÓW / Red & Black
30.09.2018 BIELSKO-BIAŁA / Rude Boy
05.10.2018 CZĘSTOCHOWA / Muzyczna Meta
06.10.2018 ŻAGAŃ / Elektrownia
07.10.2018 LUBIN / Ave Cezar
11.10.2018 SZCZECIN / K4 Szczeciński Loft Kultury
13.10.2018 SULĘCIN / U Bulka
19.10.2018 ŁOMŻA / Pop-Art
20.10.2018 WARSZAWA / Choppers Stage Club
27.10.2018 PRZEMYŚL / Fort XXI
09.11.2018 MALBORK / Alternatywa
10.11.2018 IŁAWA / Iowa Music Club
16.11.2018 OPOLE / Radio Opole
17.11.2018 JAROCIN / Spichlerz Polskiego Rocka
24.11.2018 SKARŻYSKO-KAMIENNA / Semafor
30.11.2018 KOŁOBRZEG / Centrala
01.12.2018 KOŚCIERZYNA / Exodus
07.12.2018 SANDOMIERZ / Lapidarium
08.12.2018 SIEDLCE / 5 Sztuk
09.12.2018 ŁÓDŹ / Radio Łódź