On August 20th INTERNAL QUIET will release their eponymous debut full-length, 'When The Rain Comes Down', for the first time ever on vinyl! The album comes out as strictly limited 300 copies black 180g gatefold release with beautiful graphics and new mastering done by one and only Grzegorz Piwkowski at High End Audio.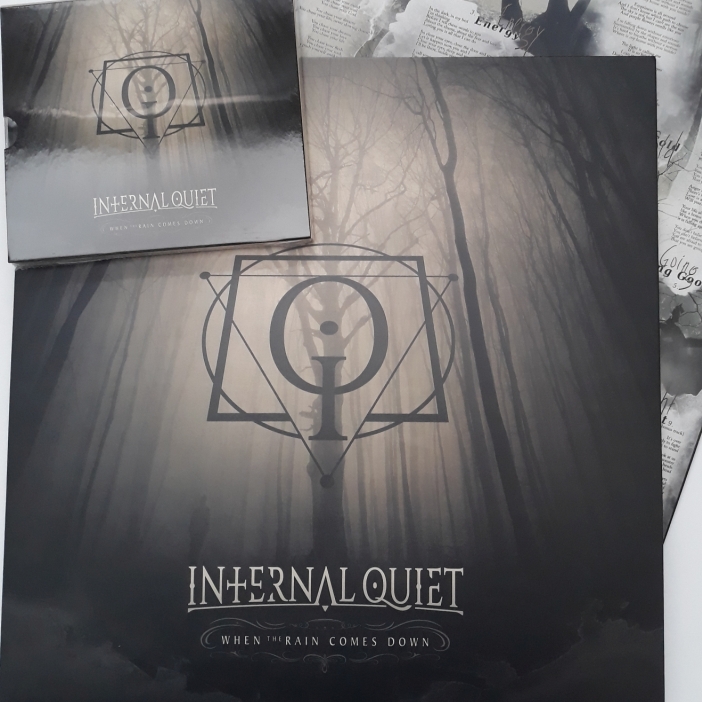 This fall, INTERNAL QUIET will head out on the road in Poland with The Mind Parasites, Dormant Dissident & Męczenie Owiec for a long run September/December trek. INTERNAL QUIET will be touring in support of their 'When The Rain Comes Down' album – which can be previewed and purchased at:
Pre-order your copy now at band's website:
http://internalquiet.com/product/internal-quiet-when-the-rain-comes-down-vinyl
There are also some limited packages with T-shirt & cd available.
'When The Rain Comes Down' track-listing
Side A
1. When The Rain Comes…
2. Chase Your Dreams
3. Energy
4. So Cold
Side B
5. Going Good
6. Rain
7. Last Breath
8. Reaching The Stars
Time To FightINTERNAL QUIET tour dates
w/ The Mind Parasites, Dormant Dissident, Męczenie Owiec – on selected dates
Sept. 1 ZGIERZ / City Of Power Festival, MOSiR
Sept. 7 NOWY TOMYŚL / Pizzburg
Sept. 8 KALISZ / Urwany Film
Sept. 9 POZNAŃ / Blue Note
Sept. 13 GDAŃSK / Wydział Remontowy
Sept. 14 SŁUPSK / Motor Rock Pub
Sept. 15 ELBLĄG / Mjazzga
Sept. 21 CHOJNICE / Pub Wlad
Sept. 22 CIECHANÓW / Fabryka Zgrzyt
Sept. 28 WROCŁAW / Alive!
Sept. 29 CHORZÓW / Red & Black
Sept. 30 BIELSKO-BIAŁA / Rude Boy
Oct. 5 CZĘSTOCHOWA / Muzyczna Meta
Oct. 6 ŻAGAŃ / Elektrownia
Oct. 7 LUBIN / Ave Cezar
Oct. 11 SZCZECIN / K4 Szczeciński Loft Kultury
Oct. 13 SULĘCIN / U Bulka
Oct. 19 ŁOMŻA / Pop-Art
Oct. 20 WARSZAWA / Potok: Drugi Dom Ludzi Rocka
Nov. 9 MALBORK / Alternatywa
Nov. 10 IŁAWA / Iowa Music Club
Nov. 16 OPOLE / Radio Opole
Nov. 17 JAROCIN / Spichlerz Polskiego Rocka
Nov. 24 SKARŻYSKO-KAMIENNA / Semafor
Nov. 30 KOŁOBRZEG / Centrala
Dec. 1 KOŚCIERZYNA / Exodus
Dec. 7 SANDOMIERZ / Lapidarium
Dec. 8 SIEDLCE / 5 Sztuk
Dec. 9 ŁÓDŹ / Radio Łódź
Tickets available at Eventim:
https://www.eventim.pl/internal-quiet-bilety.html?affiliate=PLE&doc=artistPages%2Ftickets&fun=artist&action=tickets&erid=2241919&kuid=557259
INTERNAL QUIET 2018 line-up:
Sławomir Papis – guitars
Dominik Kalisz – guitars
Mateusz Stołowski – bass & backing vocals
Paweł Lachowicz – drums
Maciej 'Rocker' Wróblewski – lead vocals
internalquiet.com
facebook.com/internalquietfanpage
twitter.com/internalquiet